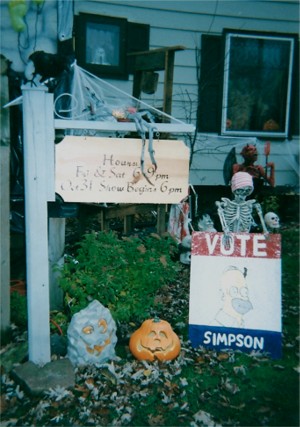 Welcome To Spooky Hollow...
The legend of Spooky Hollow began 300 years ago...
The legend states that on All Hallow's Eve,
an army of skeletons shall appear,
amongst a cemetery far or near.
From the graves it shall arise...
A keeper of souls...
It walks amongst the spirits,
looking for a soul to steal...
A new soul to bring forth amongst the dead...
Will it rise tonight?
Let us wait and see...
The artisans really had fun this year. We added so much more with many new props including more pumpkins, pumpkin stand, fence, cannon, signs, tombstones, chariot and a life-sized coffin. We also upgraded the pit by adding a front wall. This was the first year that we were able to count how many people went into the pit. This year we gained more help. Matt, Jan and Scott joined us as well as Toni and Don.

Theme: The crypt comes alive. Jan and Scott were our hosts, and were dressed as the Blues Brothers. Matt, Toni and Don were in the pit dressed as death. Gracie was dressed as a skeleton entertainer.

Story: This year was the first year that Spooky Hollow entered into the WB Creepy Crib contest. We earned Honorable Mention and were told that if we would have sent in more photographs, we would have won.